Having a beautiful house is a dream of every person. We always have a vision of how our house should look when a guest visits us. If you think your living spaces need some renovation, consider implementing granite to make your investment count. Granite stones can be a perfect alternative to best marbles for home. Granite has been famous since ancient times. The main reason for its popularity is that it has an elegant and beautiful outlook. Also its durability and hard-wearing quality make it an ideal stone to be used in your home. Thar marbles is a leading marbles dealer in Kolkata which supplies good quality granites at very reasonable price.
Questions you should ask yourself before purchasing granite for your house:
Is it beautiful?
Do I love it?
Can I live with it for years?
Am I investing in the right product?
Granite tiles are widely used in hotels and malls as they set the perfect ambiance. While you think of renovating your home, consider granite in some places of your home. That's where the beauty of the stone comes out. You will not only get a unique look but also it gets to pair with other different stones. Granite tiles are available in various colors and textures. They have a unique property of reflection that you won't find in any other stone. This quality gives them a stunning look. You can use it as floor tiles or kitchen countertops as well as in the bathroom.
You should not get confused while choosing the right granite for your home. This will decide the appearance your living space for years to come. Always stick to the product that you have in your mind. Never settle with the material that marble dealers in Kolkata want to sell you. The best way to select the correct item from the list of various types of granite is to make a thorough study on every product and then make the decision.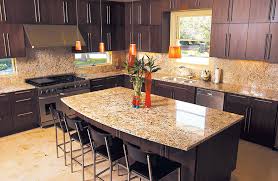 Thar marbles is a premier tiles and granite supplying agency in Kolkata. It stores numerous varieties of granite stonelike; Absolute black, Bala Flower, Black flamed, Black Galaxy, Black Pearl, Copper silk, Desert Brown, and many others. Thar marbles also provide other stones like; Italian marbles, Dungri marbles, Tiles, Cobbles, Sandstones, etc.Granite is a perfect choice when it comes to giving a royal taste to your kitchen or bathroom. Thar marbles give numerous options on granite for you to choose. These granite stones come in different sizes and price.