There are lots of benefits of using cobblestones for constructing the road. Firstly it does not allow muds to settle on it which reduce the hardship of cleaning them regularly. Cobbles are small rounded stones which are formed by glacial actions. When these stones are in flat size they are known as pebbles. And can be used in giving a new look to your house main entrance path. Thar Marbles is the best marbles showroom Kolkata which provides various types of cobbles at very fair price. If you are planning to renovate your patio entrance, you can implement this stone to give a look of classic European roads.
Tips to buy good quality cobblestones:-
There are numerous verities of imported marbles for home Kolkata, but before you choose the most suitable stone for your house and office you must make a little research on it. Start your research with finding best marbles showroom Kolkata. You can take feedback from your friends and relatives about the authentic cobbles dealer in the market.
Check the price range offered by different stone dealers. Choose the product according to your budget.
You can also take a recommendation from house decorators before purchasing the correct stone. An experienced architect or decorator can guide you in selecting the best product for your house.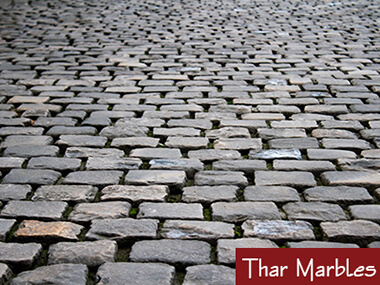 Thar marbles is a premier marbles and granite agency in Kolkata. It has a huge reputation of supplying best quality products and services to its client. The agency stores numerous types of Cobblestones for paving the road. Thar marbles is into marbles industry since last 30 years and have projected itself the most trusted name in marbles and granite industry.
Summary- Cobbles are recommendable for paving your patio or main entrance path. You can purchase cobblestones at very cheap cost from the best marbles showroom Kolkata.