If you are redoing your floors and looking for the best flooring options available in the market, sandstone flooring is the best choice. These floorings are very elegant and stylish. Sandstone is the premium quality natural stone which gives your flooring a different edge. Sandstones are very versatile and can be used both indoors as well as outdoors in flooring, landscaping, walls, paving etc. The stone is very durable and lasts even in very extreme climates.
Let us look at some of the obvious reasons to choose sandstone flooring for your home:
1. Beauty
The beauty of the stone makes it an obvious choice. The natural colours and patterns give your flooring a unique finish. Each floor in your house will be different from the other. The natural beauty of the stone gives your home an elegant and luxurious look. It is just such a beautiful material that it looks marvellous and blends in perfectly in any kind of home decors, be it modern or classic.
2. Versatility
Sandstones are incredibly versatile and have various uses. It can be used both indoors and outdoors. It is a stone with wide range of potential uses. You can use these stones in landscaping, flooring, paving, walls, coping and also cladding pillars. The durability of this stone makes it all the more versatile as it can be used anywhere and can withstand even harsh climates. Because it is naturally made it will stand the test of time for a longer period than any synthetically produced materials available in the market.
3. Very easy to clean
Sandstone flooring is very easy to clean. You do not have to change your entire flooring if there is some kind of stain in your floor. The best way to remove the stains is to use a high pressure water hose. It will very effectively clean the stains and leave the stone as good as new. The surface will freshen up and make it look brand new just with the help of water. But remember very carefully that sandstones are not acid resistant and even a great amount of scrubbing will not clean your stains, rather just a high pressure water will do the trick.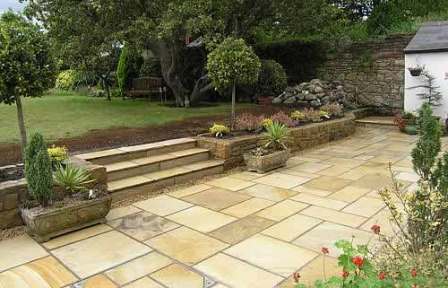 4. Low maintenance
The fourth reason for you to choose sandstone flooring is that it requires very low maintenance. This does not mean that you have to do nothing to maintain your flooring. Just a frequent washing and cleaning with water will keep your sandstone flooring radiant as the day you installed them.
5. Easily cut
Though sandstone is a very strong natural stone and known for their durability, it can be easily cut and made into the shape required by you. You do not require a fancy high tech instrument to cut it as in the case of many other natural stones and marbles.
6. Easy installation and excellent fastening.
Fastening the stone with cement is very easy. It quickly fastens with cement which is a great help in the installation process. This also ensures the durability of your flooring.
Now that you know the various features and reasons of why decorative sandstone flooring is the best choice for your home, visit Thar marbles, a leading marble dealer and distributor of all kinds of stones for your home.