The kitchen is the most important place in a house because we spend most of our time with family and relatives in the kitchen. While hosting a small get together in the house, the kitchen becomes the center of attraction for every guest. Moreover, if the environment of the kitchen is pleasant it helps in reducing our stress from daily scheduled life. So it is very imperative to make your kitchen look elegant and pleasant. A kitchen countertop made of granite can give a new life to your kitchen. You can get good quality granite from marbles dealer in Kolkata. Thar marble is a leading supplier of best marbles for the home in Kolkata. A kitchen countertop should be durable and resistive to knives and toaster pressure. It should be easily cleanable and have the perfect texture.
Advantages of implementing granite in the kitchen
People tend to use granite in the kitchen because of its various qualities. It is durable, cost effective, comes in numerous designs and sizes, etc. If your kitchen renovation budget is low, granite is highly recommendable. Granite is a porous stone and does not soak water. It is also a great heat resistant element which makes it the perfect choice for kitchens renovate material.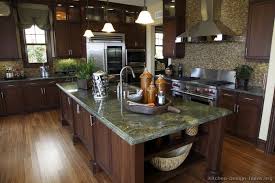 Granite has been valued for centuries for its strength and unique appearance. Granite countertops bring style and functionality to any home, with a number of advantages that set them apart from other countertop materials.
Visual appeal:

Every slab of granite is unique; even two slabs from the same source will not look exactly alike. The uniqueness of natural stone is part of its aesthetic appeal.

Variety:

Although each granite slab is unique, there hundreds of patterns and colors that are common, including Verde Butterfly, Luna Pearl, Emperador Dark, and numerous other options. To further customize the appearance of your countertops, there are a variety of finishes and edging styles available.

Durability:

Granite is a dense and durable material suitable for everyday use. It is also heat resistant and does not stain or scratch easily, qualities which make it perfect for use as a kitchen surface.

Easy to clean and maintain:

To keep your granite in good condition, all you have to do is wipe it down regularly with a spray cleaner or a mild detergent dissolved in warm water. If properly sealed, granite is also resistant to bacteria as well as water damage.

Add value to your property:

If you are planning to sell your home in the near future, granite countertops can attract buyers and increase the resale value of your house. If you are not planning to leave your current home anytime soon, you can simply enjoy the envious looks of your friends and neighbors as they admire your new granite countertops!

Cost efficient:

While other countertops may cost less up-front, these "discount" options require more frequent repair and replacement; in the long run, well-made granite countertops are more cost-efficient.
Thar marbles give lots of option on price and design for granite stone. Some of the varieties of granite that Thar marbles supplies are; Bala flower, Black flamed, cats eye, Chiku pearl, Chima pink, Coffee brown, and much more.