Sandstone has proven itself as a reliable flooring option since ancient times. Having developed for millions of years, sandstone tiles offer a unique appearance characterized by its earthy layered appearance and are one of the most recognized natural stone surface materials. Sandstone tiles are durable and come in a variety of tones and textures.  It is a beautiful natural stone which can be used for flooring as well as for wall cladding. It mirrors the look of beach and desert sand, the golds, reds, browns. This multicolored stone is the perfect decorative touch in numerous architectural applications.
Advantages of having Sandstone Flooring
Sandstone is quarried from the cores of the mountains. It is composed of rock grains or fine sized mineral. It is strong and powerful. It is highly resistant to weathering. This is more so because Sandstone is uniquely formed by nature.
Sandstone can be in any color and pattern. The most common colors are white, yellow and white and brown with a yellowish shade. When sandstone is quarried it comes out in giant slabs. These are processed and refined down into smaller pieces. As Sandstone is naturally formed that leaves unique prints and patterns. Thus, each stone is different from the other.
Sandstone is the natural product of the earth. Thus, it is biodegradable and all natural. It is an eco-friendly stone and causes no harm to the surroundings.
Sandstone is a rock and is fairly hard.  Sometimes a gap in the substrate can cause a crack or chip in an individual piece. Luckily, if this happens sandstone flooring tiles can be removed and replaced with relative ease. You just have to make sure that you have a few tiles from the original installation so that they match the repaired floor.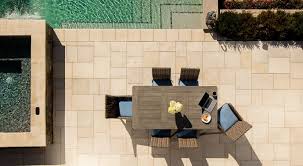 Beauty of the Natural Stone
The natural stone and its quality are beautiful to look at. Not only this, designers are also an option for natural stones. This will not only make your home look elegant but also aesthetically pleasing. Sandstone can cover a large portion of hues. They have a feeling of natural earth and colors to your home.
Thar marbles bring to you amazing and beautiful natural tiles and stones. When you are feeling like remodeling your home, you can visit our showroom in Kolkata. We are here to guide you through the best of the tiles suited for your home.