Bedroom flooring is a particularly intimate surface. It is the first thing your feet will step down on in the morning, and the last thing they will lift off of before climbing into bed each night. That means that the tactile and aesthetic effect that the floor will have on the space can also extend to the subconscious psyche of the person inhabiting it, making this a particularly important design decision. Bedroom flooring should, of course, be comfortable to bare feet, but also needs to be attractive, durable, and complementary to the bedroom's decorating style.
Following are the most popular bedroom flooring options one can go for:
Carpeting:
Carpet is probably the most popular bedroom floor surface covering in industrialized nations where it is readily available. This is due chiefly to the fact that it is very soft and warm on a person's feet. That tactile comfort helps to create a sense of lush luxury in the room, while also protecting you from cold toes on chilly winter mornings. Warm and soft to the feet, available in a nearly endless range of colors and even patterns, budget-friendly and helpful in dampening sound and controlling room temperature: it's no wonder carpet is the hands-down favorite flooring choice for the bedroom.
The major drawback to bedroom carpet is the fact that it is very difficult to keep it clean. Liquid stains can seep deep into the padding and remain permanently.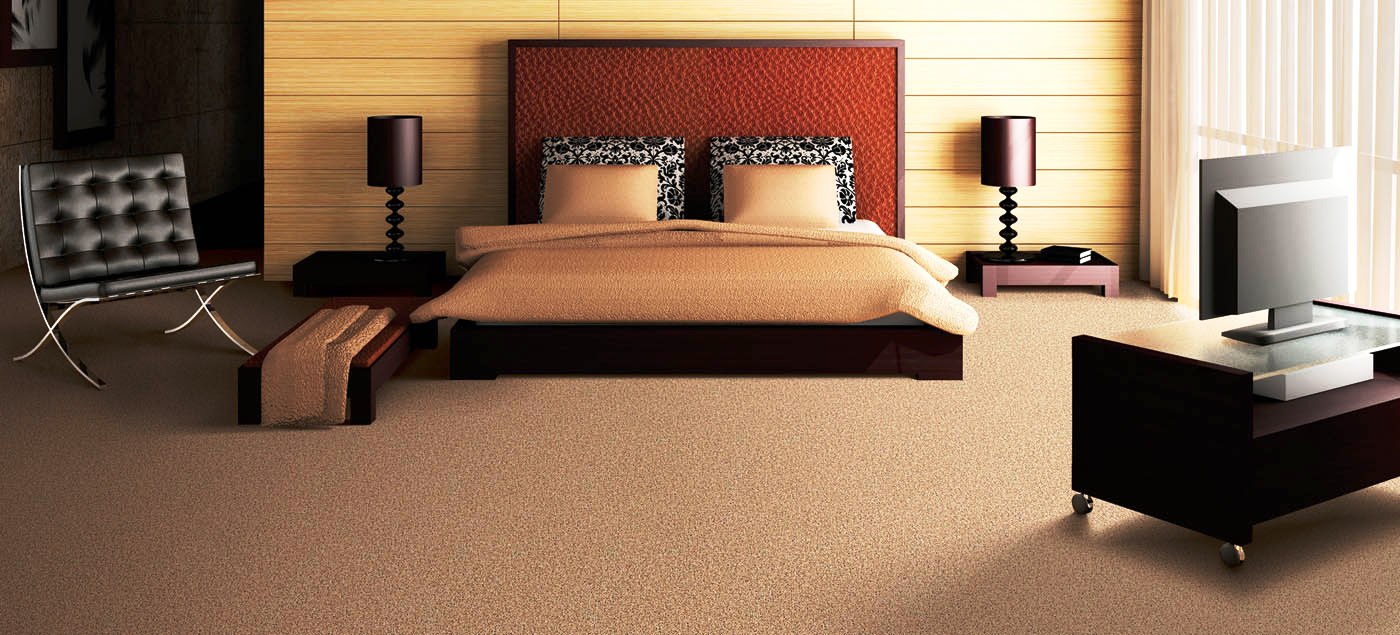 Hardwood:
Hardwood flooring is the second most popular choice for a bedroom. While it's not as soft as its padded counterpart, hardwood planks do have some yield and are both softer, and warmer underfoot than most tile and stone alternatives. This can be combined with throw rugs and area rugs to both gentle, and customize the look of the surface. The two basic types of wood flooring are solid and engineered wood. Solid wood floors are a solid piece of wood from top to bottom, while engineered wood floors are manufactured using three to nine layers of different wood veneers. The three most common styles of wood flooring are a strip, plank, and parquet. For bedroom use, strip and plank are by far the most popular.
The major drawback to hardwood in bedrooms are most hardwood floors have little or no insulation, which means that those dwelling below may be able to clearly hear every footstep you take. It also provides little in the way of heat insulation.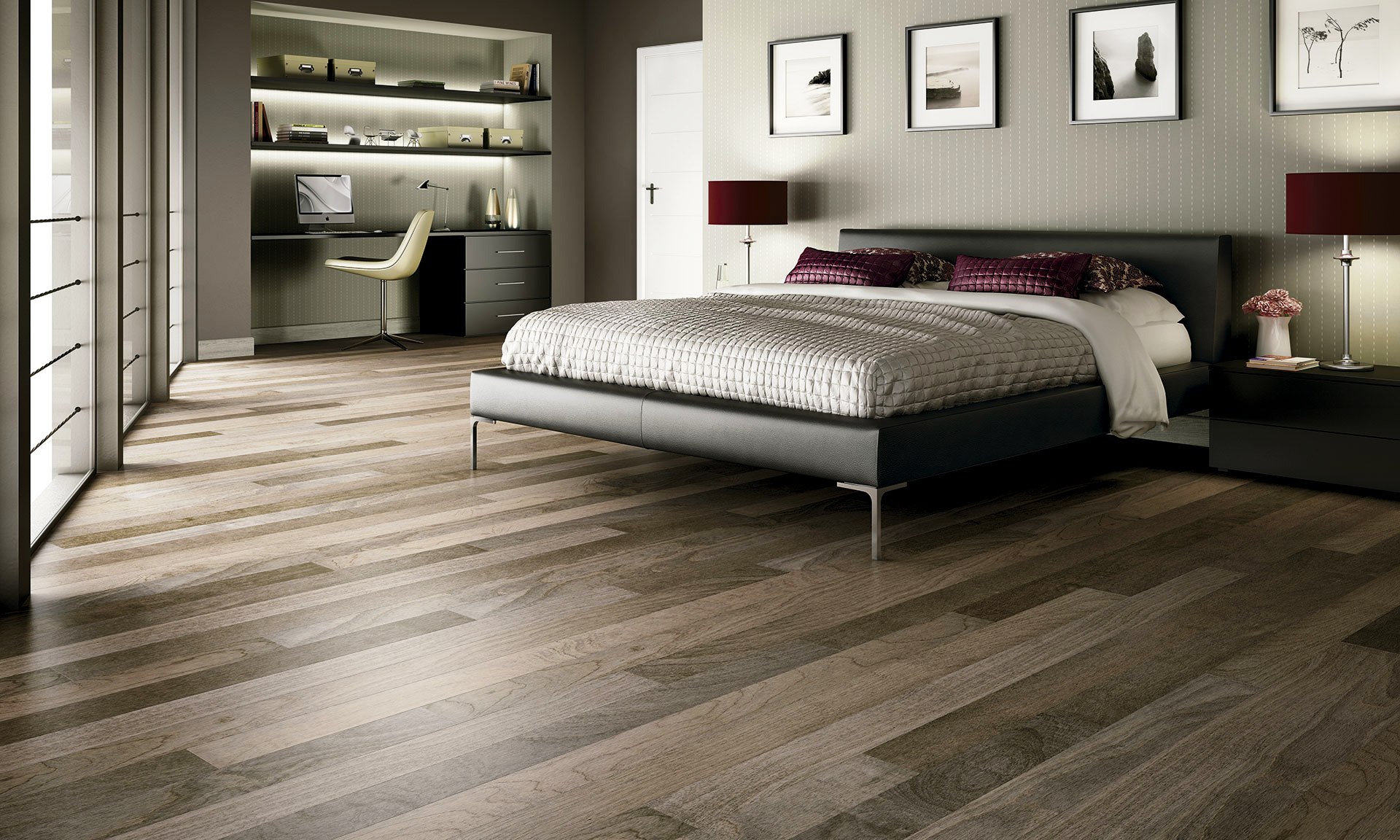 Cork Flooring:
Cork is a relatively unusual flooring material, which is starting to gain popularity in bedrooms as it becomes more widely available. Very soft, spongy, and yielding beneath the feet, cork can help to make a bedroom feel luxuriously relaxing, as the floor rises up to cradle each step you take. At the same time, the cork itself is filled with millions of tiny air bubbles, which serve to insulate the bedroom against both heat and noise. Cork flooring is eco-friendly, available in a wide range of colors and quite durable.
The major drawback to cork flooring in bedrooms is that it is a relatively soft material, which will easily scratch and damage from pet claws, furniture legs, and high heels. It will also have to be replaced periodically, although it can be refinished a few times between installations. It's expensive, though.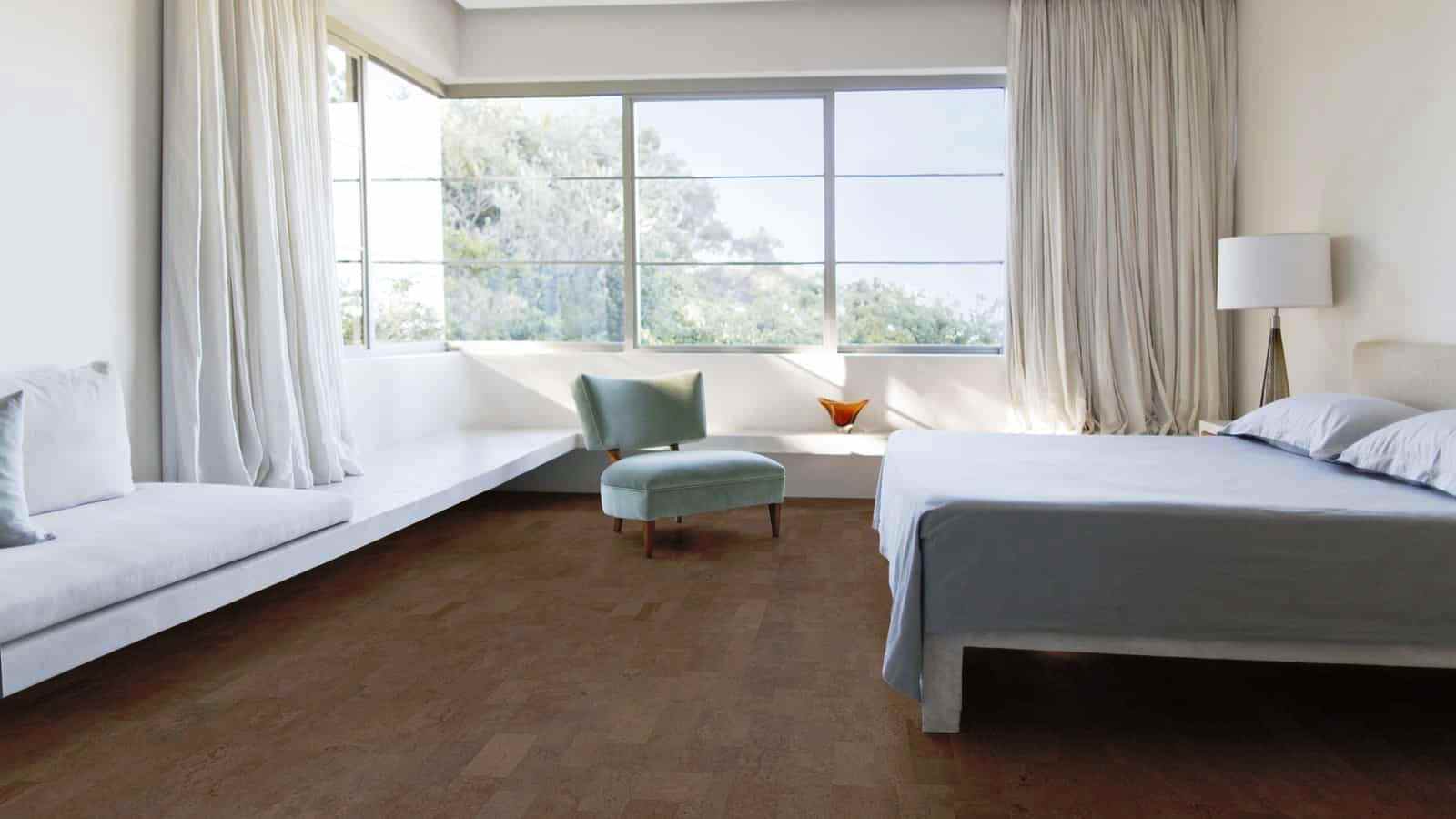 Vinyl Flooring:
Vinyl is a great flooring option for bedrooms because it is amazingly versatile. With vinyl, you have the ability to get a floor that accurately reproduces the look of nearly any material, pattern, or color. This can be combined with underlayment padding to create a bedroom floor that can have the look of hardwood or natural stone, with the soft feel and warm insulation properties of carpet.
The major drawback to vinyl is that it is relatively bad for the environment. Its production uses non-renewable petroleum resources while requiring the expenditure of energy.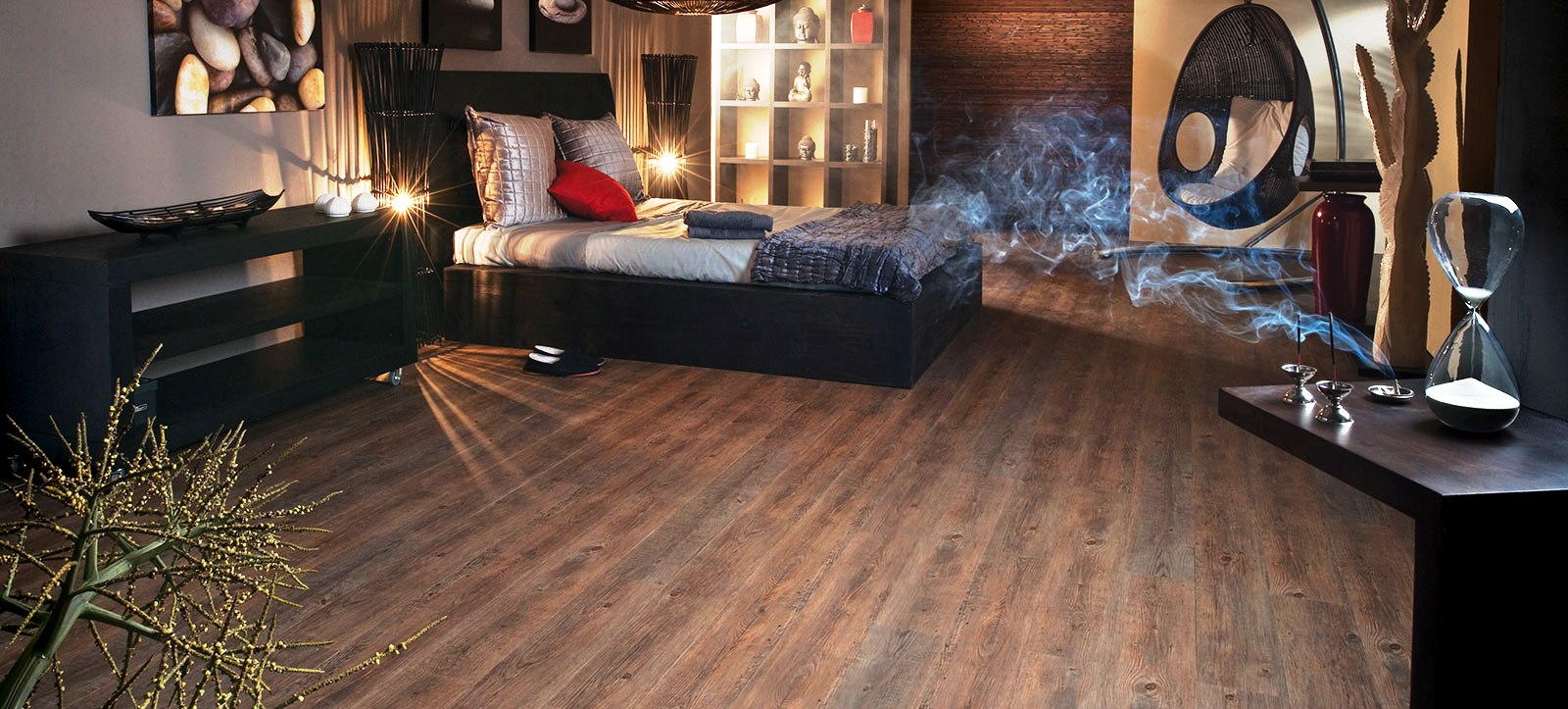 Laminate Flooring:
Laminate flooring (sometimes called Pergo) looks like real wood but is actually a printed photo of wood (stone is another option) covered with a protective plastic coating. Laminate flooring comes in a wide range of wood-tone colors and styles to suit any decorating theme. Less expensive than hardwood, you can lower the costs of laminate flooring even further by laying it yourself; it's a reasonably easy weekend DIY project. Laminate holds up quite well to daily wear-and-tear but is susceptible to scratching and can also buckle if water or other liquids puddle on it.
The problem with laminate bedroom flooring is that it is not as resilient as hardwood or other hard surface options. The wear layer will fade over time, and it is not possible to get these surfaces refinished.