Bedroom flooring is a particularly intimate surface. It is the first thing your feet will step down on in the morning, and the last thing they will lift off of before climbing into bed each night. That means that the tactile and aesthetic effect that the floor will have on the space can also extend to the subconscious psyche of the person inhabiting it, making this a particularly important design decision.
Finding the best bedroom flooring material requires you to evaluate your options based on a number of different criteria. Some of these may be obvious, such as the feel of the floor, or how it looks. There may also be environmental concerns that you will want to explore, as well as issues of maintenance, and life cycle. The importance of these elements is based on the person who will actually be living there.
There's a wide variety of bedroom flooring ideas and options: wall-to-wall carpeting, hardwood flooring, and tiles even concrete. The best choice depends on the look you want, the size and layout of your bedroom, the climate where you live, and your budget.
Hardwood flooring:
Hardwood flooring is one of the most popular choices for a bedroom. While it's not as soft as its padded counterpart, hardwood planks do have some yield and are both softer, and warmer underfoot than most tile and stone alternatives. This can be combined with throw rugs and area rugs to both gentle, and customize the look of the surface. Hardwood floors are a classic choice for bedrooms; they add both beauty and value to a home. In a master bedroom suite, hardwood can be used throughout, including the bathroom. Wood is also a good choice for kids' bedrooms, because of its durability. In the guest bedroom, a beautiful wood floor creates a warm look. In addition to traditional hardwoods, many homeowners are choosing bamboo and eucalyptus for their durability, sustainability, and relatively low cost.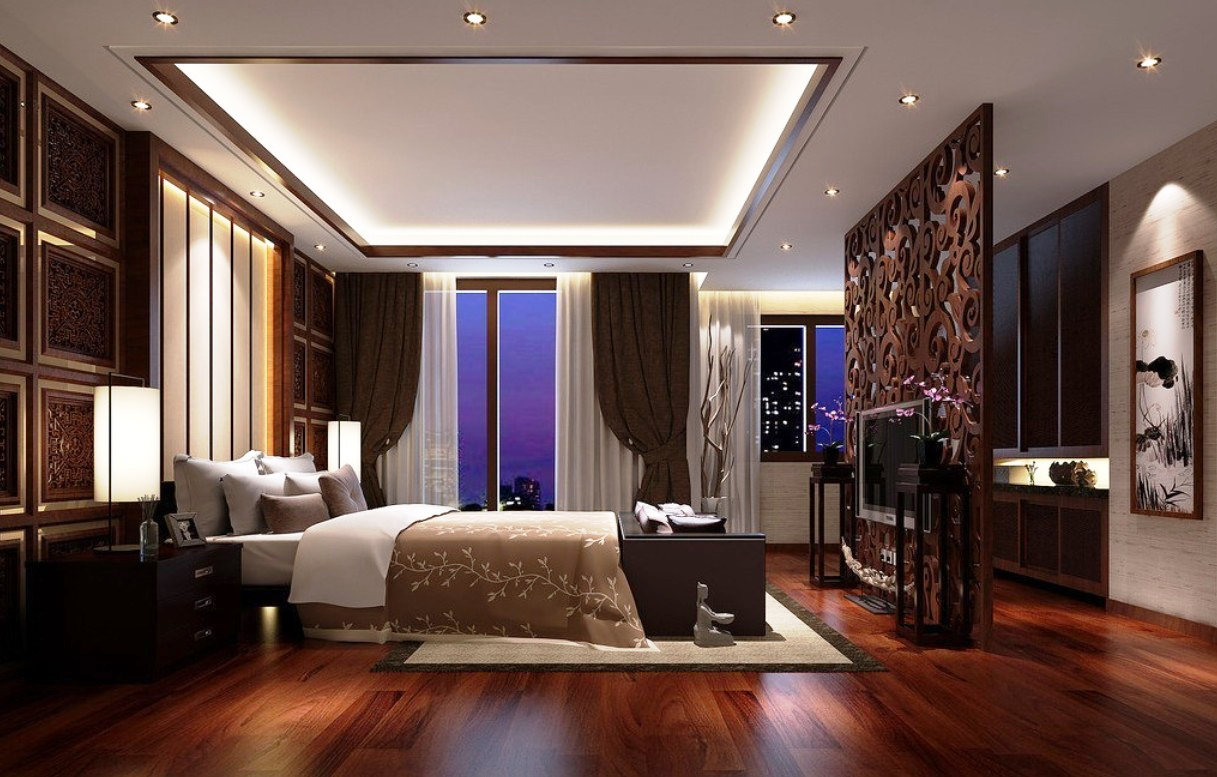 Cork Flooring:
Cork is a relatively unusual flooring material, which is starting to gain popularity in bedrooms as it becomes more widely available. Very soft, spongy, and yielding beneath the feet, cork can help to make a bedroom feel luxuriously relaxing, as the floor rises up to cradle each step you take. At the same time, the cork itself is filled with millions of tiny air bubbles, which serve to insulate the bedroom against both heat and noise. It is both durable and easy to install (you can put it down over an existing floor). Cork's resilience provides built-in cushioning; a nice touch when walking across a bedroom in bare feet, and it's an environmentally sustainable product.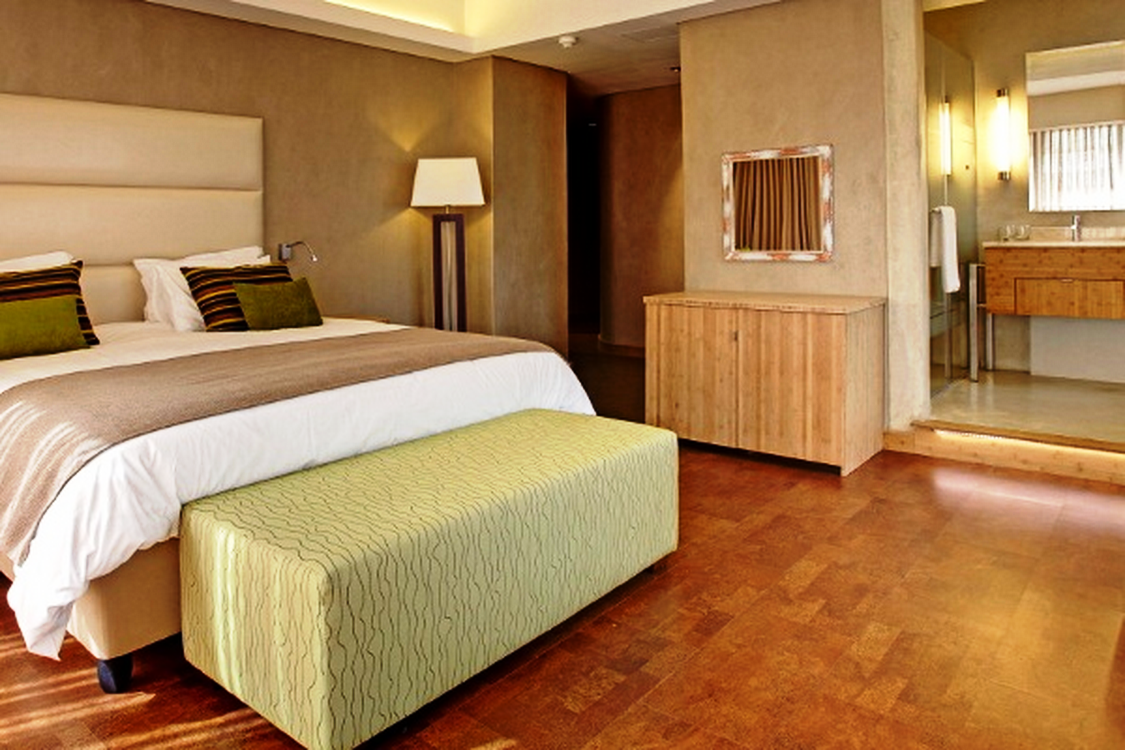 Tiles or Marble flooring:
Tile might not be a type of bedroom flooring you've considered, but it's worth taking a look at. Whether or not its right for your bedroom depends on your decorating style and the climate in which you live. If you live in a warm environment and prefer a Mediterranean style of decorating, the tile may work for you. There are many choices, from ceramic to travertine, and you can use the same tile throughout your suite, including the bathroom. Tile is also a good choice in children's rooms because it is tough and easy to clean.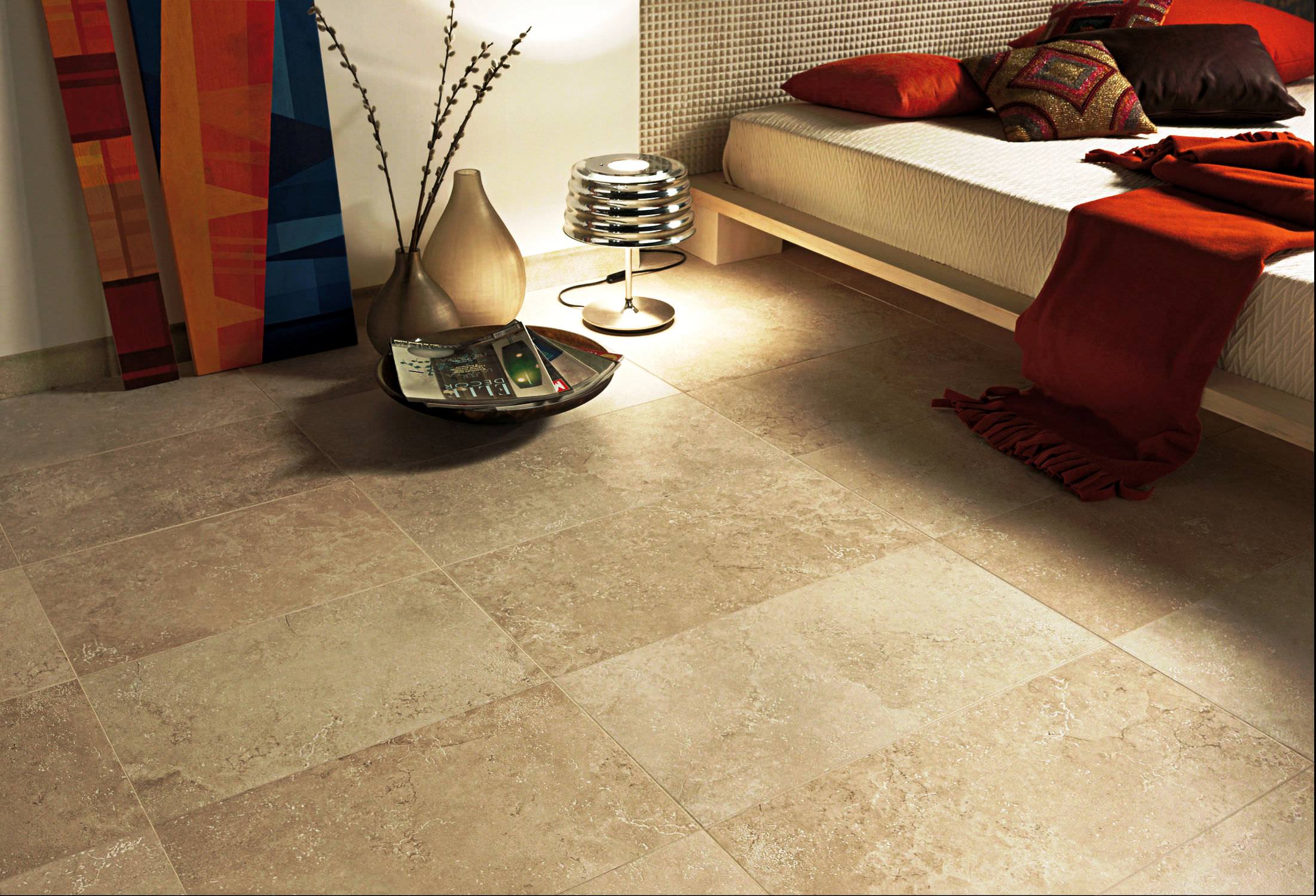 Concrete flooring:
Concrete is a very durable floor for any room in the house, including the bedroom. Concrete accepts color well and can be polished to a glossy sheen. It's a good choice for warm climates and more modern styles of decorating. It is also a low-maintenance material, making it a good choice for kids' bedrooms.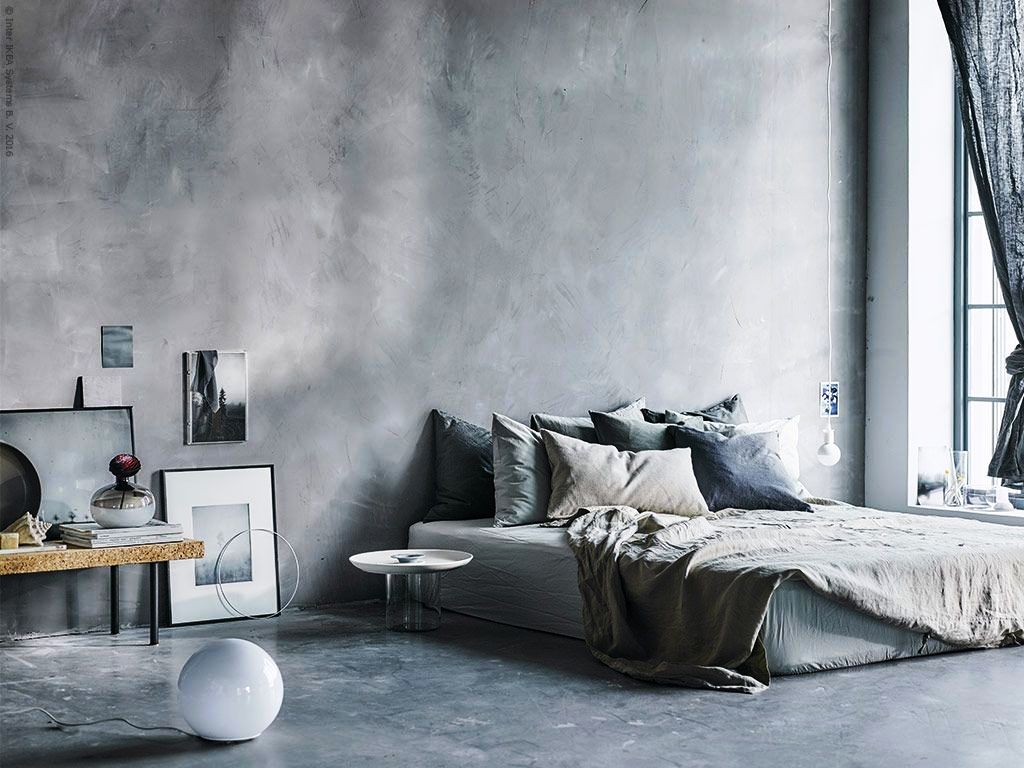 Carpet flooring:
Carpet is probably the most popular bedroom floor surface covering in industrialized nations where it is readily available. This is due chiefly to the fact that it is very soft and warm on a person's feet. That tactile comfort helps to create a sense of lush luxury in the room, while also protecting you from cold toes on chilly winter mornings.  It can provide a certain amount of insulation for space. This can help to isolate the room from outside noises, making it easier to sleep at night. Many homeowners still choose carpet for their master bedrooms. You can have wall-to-wall carpet installed, or choose a large carpet with bound edges that will let some floor show around the perimeter of your room. Carpet provides both warmth and noise absorption, and it can make a large room feel cozy. You can choose from a wide range of colors in either a loop or cut weave. A reputable carpet dealer can help you determine which type of carpeting is best for your room, depending on your tastes, traffic level, and budget. You can choose from several synthetic fibers, or select a natural wool or silk for a touch of luxury. If you choose a hard surface for your flooring, you may want to add an area rug under your bed or place smaller rugs on either side to give your feet a warm place to land on cold winter mornings.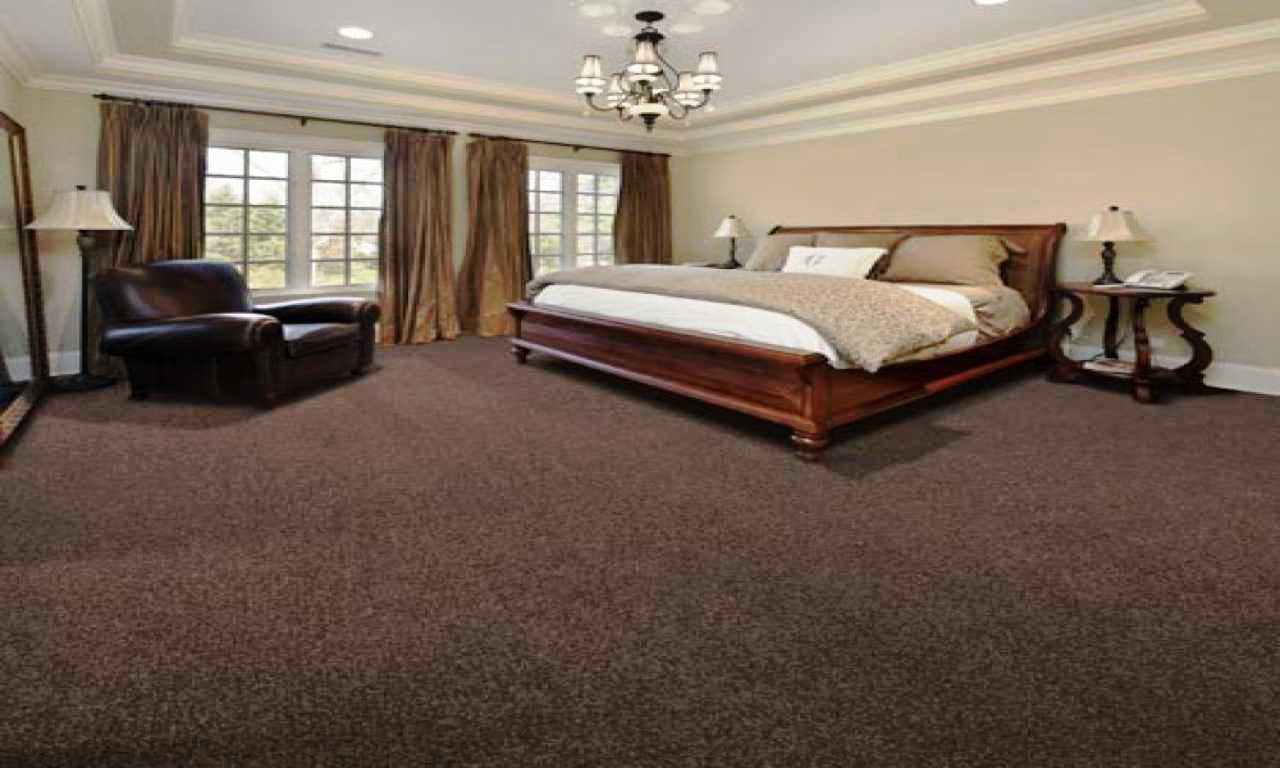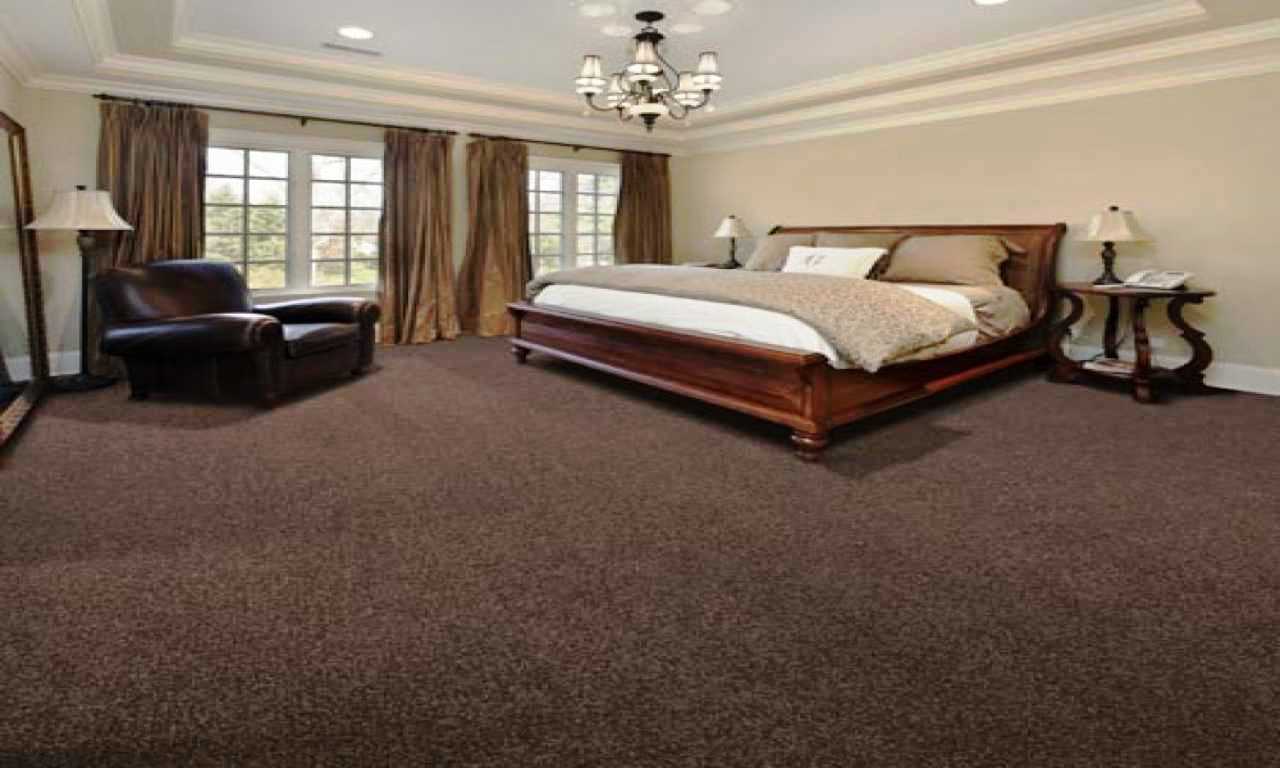 For all of the above flooring options for your bedrooms, Thar marbles guarantee you and credit you for choosing the right option implanted by our experts.