Natural stone has always been considered a luxury by the homeowners. One of them is travertine which is a magnificent natural stone from the limestone family. It is famous for its unique appearance, timeless look and versatile pattern and color range. Many homeowners are opting for travertine as it is less expensive than marble but provide equally luxurious experience. The beauty of travertine is also found in the availability of its custom sizes. No matter how small or unusual space is, you can have the exact sized tile or paver. Due to this, travertine is usually more popular for decorating and flooring of bathrooms and showers. Travertine is widely used around the globe for decorating bathrooms. However, as it is a porous material, people usually hesitate while going for it and there is a perception that travertine is not good for watery places.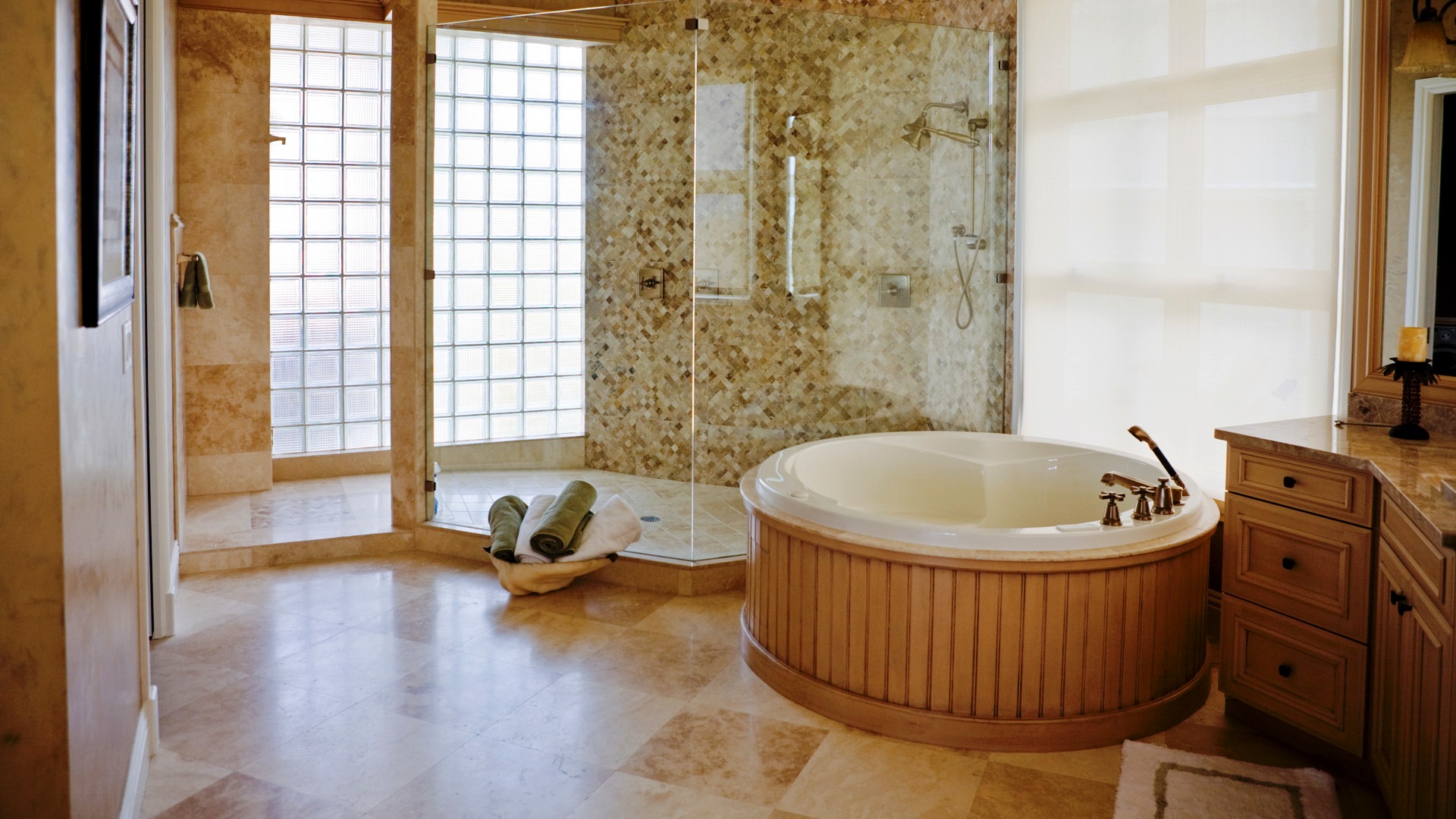 Travertine has a porous structure due to which a lot of people think that several issues can arise in the presence moisture, for example, water can seep into the pores of the tiles in the form of steam or droplets leading to damage such as stains (which are extremely difficult to remove). Shampoo, body wash, soap or even body oil can cause etching of the stones if spilled. Use travertine in your bathrooms and keep it safe from harm by choosing the right finish and sealer. First of all, travertine in smooth finish can be slippery if wet, so it is better to avoid placement of such tiles in places like bathrooms and showers. Opt for the honed travertine tile if sleek and refined is your preference otherwise, you can use the naturally textured and rustic looking tumbled travertine tile.
The best travertine tile finishes to use for bathrooms are either hone-finished or tumble-finished. Hone-finished travertine has a matte finish that softens the stone's appearance. Tumble-finished travertine, on the other hand, has an antiqued appearance that enhances the stone's natural colors. These two finishes are ideal for bathrooms because they're able to withstand spills most likely to occur in bathrooms from makeup and other beauty products. To use travertine in the shower and other high moisture areas, it's important that you properly seal it with a suitable sealer. This will prevent the travertine from absorbing water (travertine is a porous stone after all) and make it easier to maintain. Take time to find a reputable installer to install travertine in your bathroom, as the key to success of bathroom tiles lies in the installation. The choice of travertine for the bathroom does not end in the floors or walls. Travertine has also been used in bathroom fixtures such as sinks and bathtubs, and you could do your entire bathroom in travertine if so wished.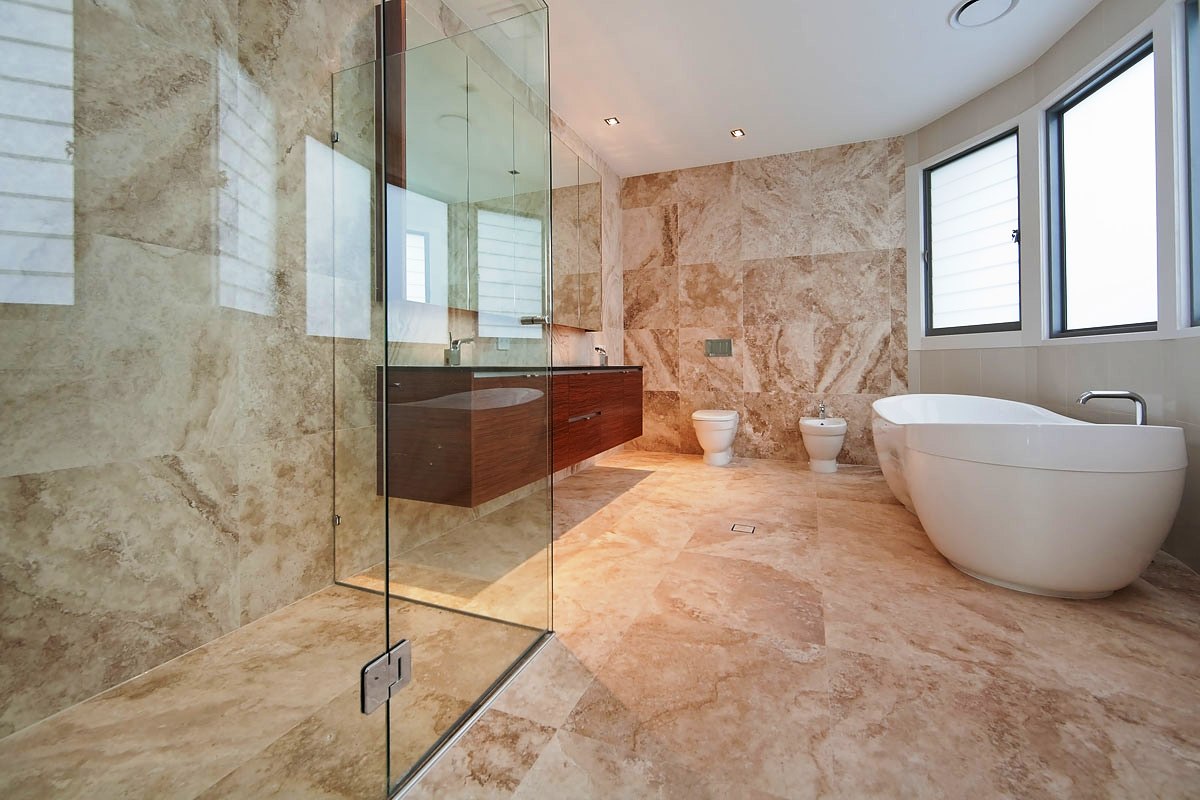 These two finishes are more effective in wet places. Once the finish has been selected, a good sealer should be used to properly seal the tiles. This will provide the adequate protection against the absorbent nature of travertine. Thus travertine can easily be used in bathrooms if it is installed properly and right finish and sealer are used. Rather it is recommended to use travertine in bathrooms because of the stone's beauty and long life.
In bathrooms, the usage of travertine tiles has no limits. You can use them for a bathroom and shower flooring, wall decoration, around vanities & bathtubs, sinks and even for bathroom countertops. Homeowners can easily find the color of their choice within the attractively huge range present in travertine.  It is a wonderful stone that has an alluring charm and is quite durable. It is also weather resistant making it suitable for scalding hot showers in the winter to chilled baths in the summer. Travertine tile is a great choice for bathrooms not only because of its beauty but also for its simple maintenance. Travertine in bathrooms is easy to clean and hardly shows water spots and soap scum – the bane of homeowners everywhere. A squeegee works well enough to remove these stubborn stains.